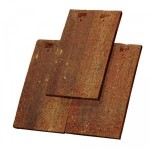 Large, bright, regular and harmonious roofs shine with the use of Éminence, Europe's number one flat tile. Éminence provides the consistency of a tile made from very fine clay in state-of-the-art production facilities.
Its wide range of harmonious colours (including the exclusive Champagne
Sandfaced) guarantees Éminence will blend as harmoniously with contemporary residences as with more traditional homes, maintaining every construction's own identity.
DIMENSIONS (mm) 170 x 270 x 12
Unit weight (kg) 1,2
Tiles per sq.m. 59 / 62 / 65
Weight per sq.m. (kg) 59 / 62 / 65
Battens (lm/sq.m) 10 / 10.5 / 11.1
Tiles per pallet* 1 008
Gauge (mm) 100 / 95 / 90
Minimum pitch 30°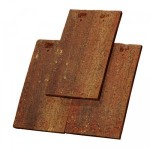 Colours
---
Terreal Eminence Plain Tile