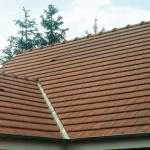 Variable gauge for ease of installation
Low 20° roof pitch guarantee
High mechanical resistance
Attractive tapered leading edge
Compatible with IMERYS PV Modules
The HP17 is a small format interlocking tile with an attractive tapered leading edge, and is designed to be installed quickly and efficiently due to its adjustable batten gauge from 222-285mm and double nail hole facility.
Features
This small format, interlocking tile, which is both elegant and economical, is popular because of its technical characteristics, offering an attractive solution both in terms of cost and ease of installation, thanks to its variable gauge. The HP17 also includes double nail holes for easier fixing at roof pitches as low as 20°.
The modern design of the HP17 offers high durability and technically superior performance even in the most severe weather conditions providing an economical solution for restoration or new-build projects available in five distinct colours to adorn the roofs of your region.
Technical Data
Quantity per pallet: 420 tiles
Coverage: 17.2 per m2 @ 285mm gauge
Nominal gauge (variable): 222mm minimum / 285mm maximum
Overall length: 358mm
Overall width: 246mm
Working width: 204mm
Minimum headlap: 73mm
Unit weight: 2.6kg
Weight per m2: 44.7kg
Minimum roof pitch: 20°
Batten coverage: 3.5 per m2 @ 285mm gauge
Batten sizes: 38 x 25mm rafter centres 450mm / 50 x 25mm rafter centres 600mm
Nail size: 50 x 3.35mm Alloy