IMERYS Integrated PV Photovoltaic Systems
---
Solar panel roof tiles
Flexible renewable energy systems for the 21st century
Renewable Energy with Imerys Photovoltaic Modules
The innovative, MCS 12 approved Imerys PV modules have been thoughtfully designed to meet the multiple demands of the Housing sector. With its discreet appearance ensuring that kerbside appeal is not compromised and its flexible range of array permutations, our modules satisfy the requirements of the Government's Renewables Obligation. This product has been designed as a fully integrated Photovoltaic system for the roofing industry using standard roof battens. This makes the PV system quick and easy to install without the use of counter battens.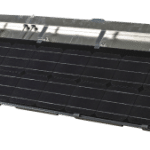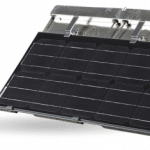 Integrated PV Advantages
The Imerys PV module only weighs 7kg, reducing the roof loading weight by over 30 kg/m2, therefore no additional live or dead load structural calculations are required.
With on-roof systems there are concerns over the suitability of roof trusses carrying the extra weight and stresses, leading to increased costs. All connections are made without penetration of the roof membrane ensuring the water tightness of the roof is maintained.
Imerys PV modules are installed by roofing contractors at the same time as the roof tiles ensuring complete synergy between the two.
Security
System security is becoming an increasing issue in mainland Europe, where on-roof systems are quickly and easily removed from roofs, however the Imerys PV module is directly secured into the roof with hidden fixings, reducing the risk of theft.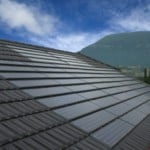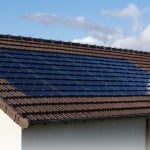 IMERYS PV : Attractive & Desirable, offering the widest compatibility choice
Imerys offer the largest portfolio of natural clay roof tiles in the UK with over 64 profile and colour variations that are compatible with our PV systems.
In addition, our modules will integrate with many concrete, clay and slate products, making the Imerys PV System truly universal for any project.
Industry leading guarantee
All Imerys PV Modules have a 25 year, 80% minimum performance warranty with the added benefit of a 30 year anti-corrosion guarantee on the aluminium frames, including a 30 year watertightness guarantee.* This industry leading triple guarantee provides complete peace of mind for the whole roof when combining our roof tiles, which themselves have a comprehensive 30 year durability guarantee.
We felt it was important to offer our PV Modules a guarantee that matched the integrity and durability of our quality range of roof tiles. When our PV system is installed with other (non) Imerys products, the overall guarantee is 15 years, which still betters the industry standard of just 10 years. The PV Module performance warranty of 25 years is still maintained.
*30 Year Guarantee applies to Imerys Large Format clay tiles. All other Imerys clay tile formats are 20 years.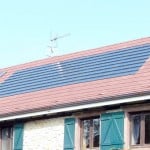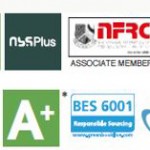 Specifications:
| | |
| --- | --- |
| Type of Cells | Polycrystalline |
| Maximum Power | 66Wp (0/+3%) |
| PV panels per m2 | 2 |
| Watts per m2 | 132 |
| Panels per kWp (1.05) | 16 Panels |
| Area per kWp (1.05) | 8m2 |
| Panel Weight | 7kg |
| Open circuit voltage (Voc) | 9.99V |
| Short-circuit (Isc) | 8.96 A |
| Maximum Power Voltage (Vmpp) | 8.1 V |
| Current at Max Power (Impp) | 8.2 A |
| Module Performance (%) | 14.2% |
| Reverse Current (Irm) | 16 A |
| Thermal Coefficients | α:0.052%/°C (Isc) |
| | β: -0.335%/°C (Voc) |
| | γ: -0.44%/°C (Pmpp) |
| Number of Cells per Module | 16 |
| Working Width (variable) | 1320-1355mm* |
| Panel Gauge (variable) | 340-375mm* |
| Connectors | MC4 |
* Working Widget and Panel Gauge based on IMERYS HP10 roof tiles.