Canalaverou 40AG
Canalaverou 40AG elegantly and effectively combines the appeal of a classic barrel tile with the technical benefits of a pressed tile. The locks of this fixed-gauge model prevent the tiles from sliding, and the different pan models (curved with or without nibs) allow this tile to fit any roof.
The Canalaverou 40AG typically covers roofs in Aquitaine, Vendée and Poitou-Charentes, regions along the Southwestern coasts of France.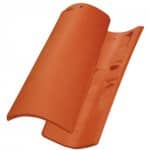 Canal Languedocienne
With its reshaped edges, the Languedocienne is a true roofer's tile. The edges form an angular ridge inside the barrel and are rounded at the  outside, for a smoother grip. Langedocienne barrel tiles have a very  generous curve, and are used all around the Mediterranean as far as the city of Toulouse. The dimensions of Languedocienne barrel tile perpetuate an antique architectural tradition, while its manufacturing process and raw materials benefit from the last technological advances. Wirecut and pressed versions of pan-tiles with nibs are available. The colour range is rich enough to satisfy preferences in different regions and site constraints, both for restoration and new building-projects.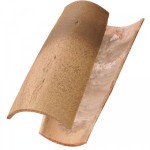 Romane Evolution

Created more than half-a-century ago, the Romane Evolution tile has benefited from all the technological advances in design and manufacturing, and is found all over Southern Europe. With its pure lines and powerful streamlined curve, its rich colour range, Romane Evolution covers traditional homes as well as contemporary constructions. The tile and its fittings have been designed for an easy and economical dry-laying. Also manufactured in Malaysia, it is becoming very popular on South-East Asian architectures.